John "Big Moose" Walker
"We was all young and crazy. All we wanted was some whiskey and some place to play."

Tony Russell, The Guardian ed. by Tony McLean with some recollections by Tony McLean (see end)
Although he was a Chicago blues stalwart through three decades, the keyboard player and singer Johnny (Big Moose) Walker, who died late November 1999 of a stroke aged 72, preferred to reminisce about his youthful experiences in the south playing with Elmore James, Sonny Boy Williamson and Earl Hooker.

Mr. Walker was born, of partly native-American stock, in Stoneville, near Greenville, MS, and as a boy learned to play the organ in the local church, like his father before him. In his twenties he played piano in bands led by the drummer Cleanhead Love and the Memphis-based bass player Tuff Green, then toured with Elmore James and Sonny Boy Williamson before serving in the U.S. Army in Korea 1953-55. He later worked on the west coast with Lowell Fulson, in Greenville with Ike Turner and in Chicago with Earl Hooker, Howlin' Wolf (Chester Burnett), Johnny Littlejohn (John Funchess) and many others.

Meanwhile he recorded several more or less obscure singles under variants of his name such as Moose John or Big Moose. "I got the name because of the length of my hair," he explained. "People said I looked like a moose."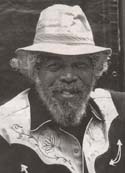 In 1960s Chicago he spent time with fellow pianists Sunnyland Slim and Johnny Jones and toured with Otis Rush and Muddy Waters playing bass - a skill he had picked up while with Ike Turner and Howlin' Wolf. He then rejoined Earl Hooker, playing on his 1969 Bluesway album Don't have to Worry. Bluesway producer Ed Michel also featured him on his own album, Rambling Woman and hired him for the singer Andrew "Big Voice" Odom's Farther on Down the Road as well as a joint effort by John Lee Hooker and Earl Hooker If You Miss 'Im, I Got 'Im. Recalling the session with Earl and John Lee Hooker Mr. Michel commented "Walker was to that band what Otis Spann was to Muddy Waters."

As it happened, Moose and Otis Spann were good friends who often hung out together and Moose's laid-back singing is sometimes reminiscent of Spann's smoky manner. One night during a Muddy Waters tour, the two men found themselves in a hotel lobby with a couple of grand pianos and played duets for several hours.

"We was just drinkin' and playin'," Moose recalled. "When we finally looked up, it was about eight o'clock in the morning and there was about 300 people standin' there." The two planned a duet album which Moose said "woulda went down in history 'cause we play the same thing. We know how to turn it around." Otis died in 1970 before the project came to fruition.

In the 1970s and '80s Moose played with the singer-guitarists JImmy Dawkins, Mighty Joe Young, Son Seals and Johnny Littlejohn, whom he played with on and off for almost fifty years, the two having known each other since their childhoods in Mississippi. "I never wanted to be a bandleader or have a big name," he claimed. "I just like to make it sound good if I can."

He was featured in Alligator Records' showcase of a series of albums titled Living Chicago Blues and made further albums of his own in the US and Europe, often featuring his favourite compositions Footrace and Moose on the Loose. Johnny toured Europe with the 1979 Chicago Blues Festival and travelled to Canada and New Zealand, settling in to residency in Montreal for several years, playing and living the party life.

With his long gray hair, white beard and exuberant manner he was an arresting figure and Maori audiences particularly took to him. Back in Chicago he could be found playing often solo or with his regular drummer Chris Moss at the North Side blues club, Kingston Mines or smaller venues on the South Side such as Palmer's Lounge or the Soul Queen Restaurant.
---
I met Moose and partied with him, Paul Fenton and Johnny Littlejohn in the late 80s when they came to Ottawa to play. He was one of the most outrageous tall tale tellers and here's one of my favourites about his time with Howlin' Wolf: "If you be hittin' a bum note Wolf be waitin' by the side of the stage for you at the end of the set. It didn't matter he be six foot nine and three hundred pounds, he would pull out his pistol and pistol whip you. In the face!" Moose told many X-rated and profane stories and loved playing his "grade school" version of "Blueberry Hill" by Fats Domino, often repeating the same verse over and over again. He was somewhat of a 'mascot' in his bands and became a well-known figure on the Montreal music scene when he lived there in the late 70s or early 80s. He teased Johnny Littlejohn by telling him he still had one of Earl Hooker's slides in his house. Nobody who met Moose will ever forget him and we all have cute stories to tell about this big kid named Moose. God Bless and say hi to Johnny Littlejohn for us. And Moose, Blueberry Hill, one mo' time!
Tony McLean May 9, 2000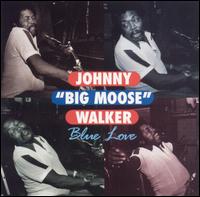 Another MOOSE CD here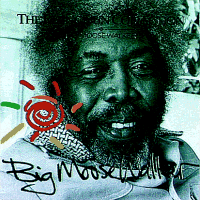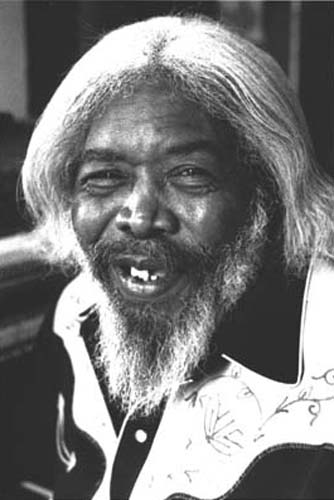 Moose at the Burnley Blues fest in England


You are the visitor.
Updated December 31, 2002