We're moving again in March, stay pruned for new contact details, specials etc.
NOS 1969 Dodge Polara/Monaco fender now only $399!
moparman@storm.ca
---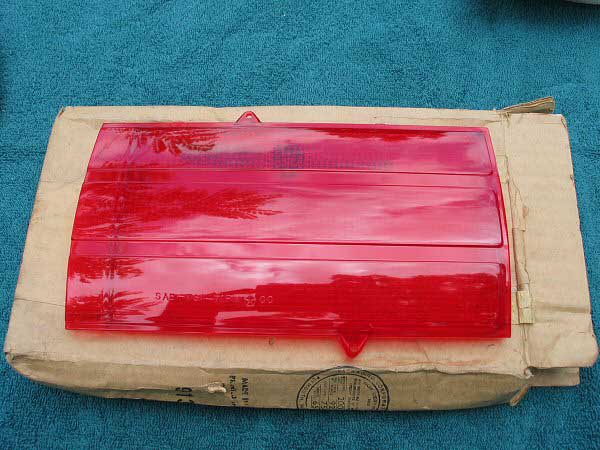 N.O.S.'72-'73 Fury III station wagon right taillight lens $75
N.O.S. 1969 Monaco/Polara RS (passenger) fender $399 Cdn
One of the finest specimens you will ever see. Original, never on a car, the fender was at the same it was at a western US dealership all its life until I acquired it. Black factory primer, never beaten up, as new, you won't ever see a better example. If you're doing a precious car or big dollar resto (convertible maybe?) you need this fender. Email moparman at storm dot ca for photographs. Shipping extra.
NOS roof chrome for '73-74 Satellite Sebring with vinyl, only $150 US! (plus shipping) These go for over $200 at Brad's and Mitchell's so don't hesitate! Passenger side, this is the roof trim piece that goes on the edge of the vinyl, above the drip rail molding. Well packaged, ready to ship, strapped to wood, mail-proof. Newman-proof.
NOS: MoPar Thermoquad accelerator pumps, $35 US ea. (1 remaining)
NOS: Holley Strip Kit $250 Cdn (carb jetting kit)
NOS "take-off": Carter AFB 4 bbl w/ electric choke. Believed to be 650 cfm, was on '69 AMX, is the modern repro not the original $250 Cdn
Watch this space, lots of NOS for the 1969 C body Dodge Monaco.
BRAND NEW MADE IN USA 1968-70 B body driver's side rear floor pan $50)
Shipping extra on any and all items. Please inquire at McLean Supercars email


HOME JAMES!
You are the visitor since the counter was installed Feb. 20, 1998.