A National Holiday with Rory Gallagher
You're the visitor.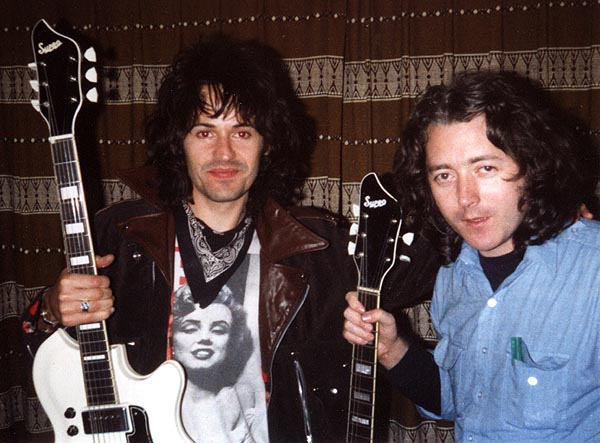 Photo by Tony McLean (c.), 1985
Last June 6th I celebrated a "National" holiday with the legendary Irish musician Rory Gallagher (pronounced Gal'-a- her'). Just how this came about is an amusing little story. Paul Fenton considers Rory to be his main musical mentor, since it was after seeing the Celtic tornado in Toronto in 1972 that he decided to make music his life and took up the guitar with an enthusiasm that still amazes the uninitiated. Paul had a close call with Rory in 1982 when his band of the day, Number One (TFM vol. 4, # 3, Nov. '82) opened for Rory at le Spectrum in Montreal, but Rory was not in a particularly 'social' mood, rather he was reportedly on a bit of a rampage.
Our plan was to get Rory back to Paul's for dinner, drinks and guitar talk. "I've got a collection of beers and some Nationals," Paul rehearsed. I grew increasingly nervous (and sober) in spite of the afternoon's pub crawl. In rolled the Winnebago, very late (6:30 pm) and now we'd be brushed off, it appeared, in favour of the sound check. Up the back stairs jaunts Rory, decked in jeans, jean shirt, t-shirt, aviator sunglasses and running shoes; the unpretentious 'meat-and- potatoes' blues-rock hurricane we all know and love. "He's lost weight," I remarked. Rory looked at us sitting by the mixing board for a few moments. He remembered Paul, so we went down in front and intro'd ourselves.
Rory looked pale and tired until the road manager handed him a beer. "Ah yes, there we go!" Rory said, shook our hands warmly and we trotted up the stairs so the lad could see the 'baited hook', a 1962 Supro. Instantly enthralled, he invited us back to his room at the Beacon Arms before the show. As it turned out, there were annoying, serious problems with the monitors during the sound check and Rory couldn't show up at the 'Broken Arms' Hotel. Jumping into the car with Paul, his wife Cathy, 11 guitars (all Nationals) and an amp, we peeled back to Barrymore's to see what was up. When Paul got backstage, Rory was shaving. He apologized for the aborted get-together and quipped as he shaved, "Now that you've seen me like this all the mystery's gone, hasn't it?" Our meet was now tentatively after the show.
Heavily laden with beer and pizza, I made a visit (across the street) to the Royal Oak pub - this was a Rory Gallagher concert, not an "A.A." meeting. In I trotted and there were Rory, Gerry McAvoy (his bass player of 13 years) and Brendan O'Neill, drummer and Gerry's boyhood chum and schoolmate, oinking out and having a bevvie at the bar. No one paid them any attention, which was both unusual and nice. I asked Rory if he would do me the honour of playing my 1932 Duolian during the show. He politely declined, citing the monitor problem and graciously thanked me for the offer, "Next time, perhaps, but thank you very much." I reminded him of our appointment and excused myself.
Needless to say, when the smoke cleared, a lot of happy and exhausted people left Barrymore's. The show was three hours long, including break-neck rock'n'roll, soulful blues and an amazing solo acoustic set. Rory was in incredible form, even playing the Beatles' "Rain" early in the evening. As we waited, McAvoy came over and shot the breeze with us about everything from the London punk scene (he said it's dead) to the Deuce album ("It's just one of those magic albums...") to touring with Rush and Cheap Trick ("Three nicer guys you could never meet, but..." and "They were bloody awful" respectively). Now with The Fenton Brothers Band's other guitarist Ronald Gilfillen in tow, we followed Gerry into the dressing room.
There stood Rory, cocky, Remy Martin shots in one mitt, beer chaser in the other (an empty 40-ouncer on the table) kibitzing with a gaggle of local Irish friends, one of whom was teasing him mercilessly. Rory rose to the challenge: "If I was married and had a wife and children like Donal (his brother-manager) I wouldn't be playing two hours tonight in Barrymore's now would I?" (It was three.) "Now mind your step as you cross the street, old fellow, and don't trip over your cane!" The dressing room roared as Rory scored again and again on his 'foe'. "I really am a spoiled priest you know, couldn't you see me taking confessions on Saturday night? Lord!" He grinned and put his hands together as a female admirer smiled.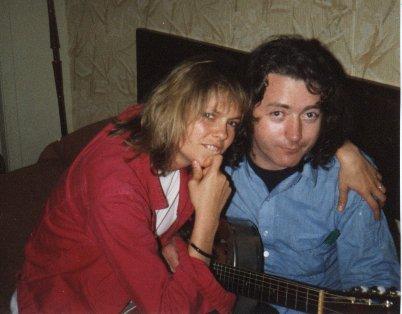 A cute pic of a sheepish Rory and Cathy Fenton: "You're sure he won't be jealous?"
Paul handed Rory two Coricidin bottles, favoured by Duane Allman and Rory for slide. "Now there's a man with the right idea! Thank you!" From there on in we had it made. Rory showed us the Supro shirt David Lindley had given him, proffered us drinks and he and Paul talked up a storm before agreeing to reconvene at the "Broken Arms' - the Gallagher troupe hadn't even checked in yet! "Rick Derringer stayed there," Paul said. "Oh well, if Rick Derringer stayed there, maybe they'll give me his room," Rory joked.
The guys on the night desk didn't even blink. Half an hour after we had ravaged the candy machine in the lobby, in strolled Brendan and Gerry - as soon as they saw us, they looked even more whipped, said their good nights and rushed into the elevator, too wise to engage in such foolishness. Rory came happily along next, grinned and invited us up. He helped us pile all the stuff into the elevator and we went up to the room. "Lord, this is quite an elevator!"
It was Paul's show. Guitars started appearing left, right and centre; Supros, Airliners, Nationals, Silvertone...Rory was overwhelmed. "Have you ever seen a National collection like this, Rory?" Paul enthused. "No, no I haven't! It's a beauty isn't it? Yes, indeed it is! Would you look at this guy! He's even more hyper than I am!" Rory laughed, surprised to find another with 'the sickness'.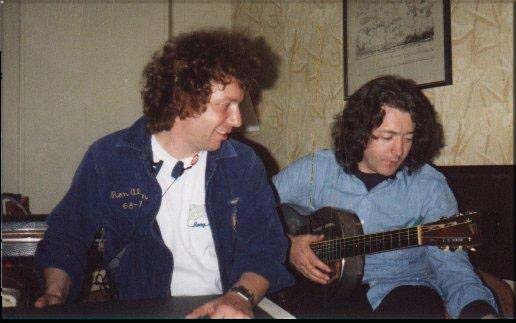 Tony McLean and Rory.
The conversation turned from whether a certain guitar was Art Deco or not to how disappointed Rory was that the black bluesmen were not getting their due, J.B. Hutto being the prime example. McLean: "Is the tour going well?" "Yes, actually I feel very good about this tour, I'm very happy with the sound." "Do you believe in God?" Cathy interjected. "I wouldn't be on this tour if I didn't believe in God," Rory joked. "Seriously, I believe in God, but I'm not a real Bible thumper or anything." Rory glowered mockingly when asked if he was a Protestant. We laughed and asked him where he lived when not on tour. It turns out he spends a lot of his time in London, because of the music scene, as much time as he can in his beloved Ireland and even some time in France.
The assistant tour manager came in and glared at us like a mother lion seeing her baby threatened. Clearly, this type of late night rendezvous was not normal in the Gallagher camp. Rory paid little attention to his concern or the supper the man brought in, instead he continued to play various guitars, and even offered us his supper and the Heinekens brought with it.
After I got him to do a couple of station I.D.'s and Funding Drive promos (first two weeks in November, kids!), Paul handed Rory one of the Supros. "Ah yes, indeed, it's a beauty," he said, handing it back. Paul wouldn't take it. "No, I mean take it, it's yours. It's my way of paying you back. If it wasn't for me seeing you in Toronto in '72 I wouldn't have gotten into music." Oh no, wait, don't do it in a flush, here, I'll give you my number, I'll be here 'til ten." Aw, cut it out and take it," I kidded him. "No, no really, I couldn't, it's too much." After some persuasion Rory accepted, Paul gave Rory a brotherly hug and Rory looked at his gift, stupefied.
It was now 5:15 am and we began leaving. "You've never had an evening like this, have you Rory? It's like meeting an old friend for us, we've known you all these years, it's just that you didn't know us." Rory Gallagher, reputed to have an Irish temper, yet sensitive, polite, even intellectual at times, said with a strange little leprechaun smile, "Yes, that's it, I suppose, isn't it? And no, I've never had a night like this."
(c.) Tony McLean, June 6, 1985
Ottawa, Canada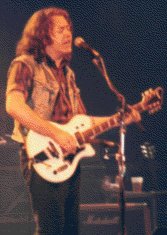 Rory at Montreux Jazz Fest June '85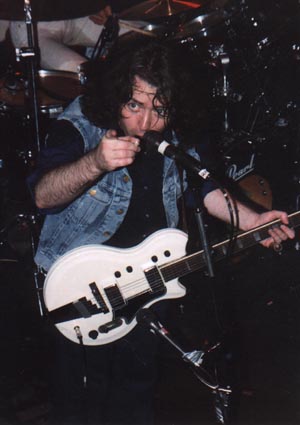 NYC: Lone Star club June 23 or 24, 1985
Charlie Gili photograph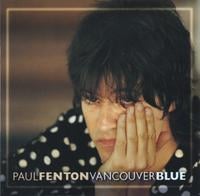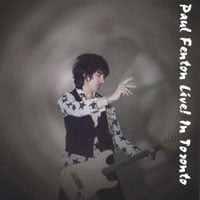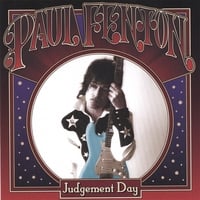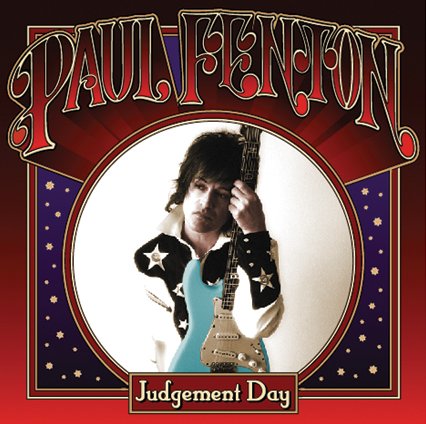 TransFM magazine, program guide for CKCU-FM, Radio Carleton 93.1 FM 93.5 cable
My main music page