C-R links we have found on the Internet
Citoyens de Clarence-Rockland Citizens on Facebook
Satellite map of Clarence-Rockland and surrounding area
Historical weather statistics for Clarence-Rockland
Profile of Clarence-Rockland
More links to C-R on the Internet (Including one called "Podunk"
Gilles Chartrand: Honouring the pioneers of Clarence-Rockland
Lettre à l'éditeur: Centre culturel La Ste-Famille
Some early history and the founding of Rockland
Slide show of Rockland and surrounding villages and landscapes
View Pictures of Clarence-Rockland from "picsearch"
Well-known and historical figures from Clarence-Rockland
From "Your Neighbourhood.ca" - C-R Information and Statistics
Small businesses - SOHO businesses (Sole-Owner / Home-Operated)

Citoyens de Clarence-Rockland Citizens on Facebook
The Canaan Connexion regularly highlights information from the Citoyens de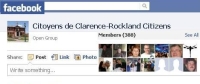 Clarence-Rockland Citizens Facebook page. Many of its members have a distinct bias against several members of the current C-R Council but all-in-all it provides a lot of useful information. It grew very quickly to many hundreds of people and now hovers a little over 600+. While it is a "moderated" site, it does not restrict membership.

( NOTE: If you want to read the messages or join the dialogue you must have a Facebook account and then you must request that your name be added to the C-R Citizens page. Facebook membership is free, and relatively easy to sign on. Click here.)
Back to top

Satellite map of Clarence-Rockland and area
Found this great satellite map from the Wikimapia website through the Google "Alert" function, using "Clarence/Rockland -county". I put the "-county" in to avoid getting a lot of references from Rockland, Maine. The satellite shot is somewhat dated, but you can still see a fairly good close-up of the country.

The Weather Network:
Historical Weather Statistics for Clarence-Rockland
If you are a weather junkie, this site may be for you. Besides offering the current weather conditions for Clarence-Rockland, you can also type in various dates to see what the weather was like in the past.
You can also click on the "See monthly weather statistics" link where the weather statistics displayed represent the value of each meteorological parameter for each month of the year. The sampling period for this data covers 30 years. Record maximums and minimums are updated annually. Click here...
Back to top

Profile of Clarence-Rockland
Clarence-Rockland is a bilingual community in Eastern Ontario located in the United Counties of Prescott and Russell on the Ottawa River. Clarence-Rockland is located immediately to the east of Ottawa and is considered part of Canada's National Capital Region in the census. The city includes the communities of Bourget, Cheney, Clarence, Clarence Creek, Ettyville, Hammond, Rockland, Saint-Pascal-Baylon and Vinette.

The community is 68 per cent francophone and is the largest majority-francophone city in North America outside of Quebec. In January, 2005, the city introduced a bylaw which required all new businesses to put up signs in both English and French.

The city of Clarence-Rockland was one of the first municipalities after Ottawa to introduce a smoking bylaw in all public establishments. This initiative has led other municipalities in the area to consider such a bylaw.

According to the Canada 2006 Census the Population in the area was 20,790 people.

Clarence-Rockland Transpo provides a public transportation service to residents of Clarence-Rockland about 35 kilometers (22 mi) east of Ottawa. The commuter bus service is part of the Rural Partners Transit Service of OC Transpo.
Back to top

More links to C-R on the Internet
These are more miscellaneous links that we have found for Clarence-Rockland profiles and/or information:
Donors to the Recreation/Cultural Centre Fundraising Campaign
Clarence-Rockland on Wikipedia
Clarence-Rockland on Podunk
Rockland (the town) on Wikipedia
Eastern Ontario on Wikipedia
Franco-Ontarian Communities (including Rockland) on Wikipedia
Clarence-Rockland - Local Government Performance Index (FY2009)
Clarence-Rockland - Contact List from past (Found on rockland Legion website)
Back to top

Gilles Chartrand: Clarence-Rockland's pioneers
Edwards, Gendron, Guindon, Lalonde, Lavigne, Renault, Desrocher, Potvin, Lavoie, Duquette, Pagé, Rochon, Fox, Shirreff, Tucker: Many pioneer families have settled in villages that now form the greater City of Clarence-Rockland and a man passionate about local history is leading the charge to honor these ancestors. Gilles Chartrand is a veritable encyclopedia.

(This feature comes courtesy of Dugas Jean-François, Le Droit, and is written in the French language. However you CAN get a rough translation using the Google "Translate" feature - Editor.)


Click here to visit the C-R Museum page
Back to top

Lettre à l'éditeur: Centre culturel La Ste-Famille
(This item mentions the closure of the cultural centre after 35 years)
From: Richard Lalonde – Maire de la Cité Clarence-Rockland

Au nom du conseil municipal de la Cité de Clarence-Rockland, j'aimerais remercier toutes les personnes qui, de près ou de loin, ont contribué au développement du Centre culturel la Ste-Famille, qui fermera les portes le 31 août prochain. Pendant plus de 35 ans, les francophones de la région ont eu accès à une programmation culturelle de qualité, fruit du travail acharné de plusieurs bénévoles.

(On behalf of the City Council of the City of Clarence-Rockland, I would like to thank all those who, directly or indirectly contributed to the development of the Cultural Centre Holy Family, which will close the doors on Aug. 31. For over 35 years, Francophones in the region have had access to quality cultural programming, the fruit of hard work by many volunteers.)

Le Centre culturel la Ste-Famille n'a pas concentré ses efforts uniquement dans la région. Les bénévoles du centre ont participé activement à la création du centre Les Trois p'tits points d'Alexandria et du Chenail à Hawkesbury en plus d'avoir été un des centres fondateurs de l'Association des centres culturels de l'Ontario.

Grâce aux bénévoles et artistes de la région, les résidents ont eu l'occasion de suivre des cours d'arts, d'assister à des pièces de théâtre ou bien de participer au concours Découverte. D'ailleurs, pendant plusieurs années, ce concours a été le tremplin de plusieurs artistes qui se sont démarqués sur la scène régionale, provinciale, nationale et même internationale.

En conclusion, j'aimerais prendre le temps de remercier les membres du présent conseil d'administration qui ont pris la difficile décision de fermer le centre soit Dominique Auger, Marie Yelle, Francine Lebel, Gilles Chartrand, Andrée Lortie, François Coulombe et Lyette Serrurier. (See reference.)
Back to top

Some early history and the founding of Rockland
We found this page while surfing the Internet, simply titled: History Geography Rockland. We have put more information an a link on our Clarence-Rockland Museum page.
Back to top

Slide show of Rockland and surrounding villages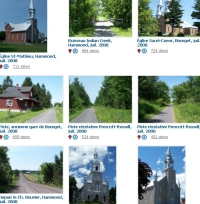 F.Guertin has taken an extensive collection of photographs depicting Rockland and the many towns, villages and landscapes in the area and has put them on a photo-sharing website called: Panoramio.

There are several links to the many hundreds of photos that F.Guertin has taken, but this one should give you the main photos of our City and area: click here.
Back to top

View pictures of Clarence-Rockland on picsearch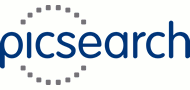 Another website that we stumbled upon... Picsearch connects its users to the vast visual resources of the internet, using its own technology to crawl the web and creating a searchable index of images. See more...
Back to top

Well-known and historical people from Clarence-Rockland
Our Clarence-Rockland Museum page carries the names of several well-know or historical figures who have come from Clarence-Rockland. More...
Back to top

"Your Neighbourhood.ca" - C-R Information and Statistics
This website carries the 2006 City of Clarence Rockland information and statistics, population and dwelling counts as well as visible minority population characteristics and earnings in 2005

I guess we will have to wait for the next census to update the figures. Read more...
Back to top

SOHO businesses (Sole-Owner / Home-Operated)
Cuisine Gimy - Catering Services
1885 Clark Road. RR 1
(Near Landry Road)
Clarence-Rockland, ON K4K 1K7
Phone: 613.446.4064
Owner: Suzanne/Maurice Duquette
Service: Full service catering for weddings, funerals, banquets, etc. up to 500+ people.
Does the annual clam chowder dinner for Vanier (750 people).
Advertises mostly by word-of-mouth and Yellow Pages.
Ratings: one 5-star on website; lots of references on Google.
The Canaan Connexion is looking for writers

Would you like to become a "Country Correspondent", contribute
a column, voice an opinion, share information?

Contact us: