Bourget
Marthe Boileau honoured for her tireless volunteering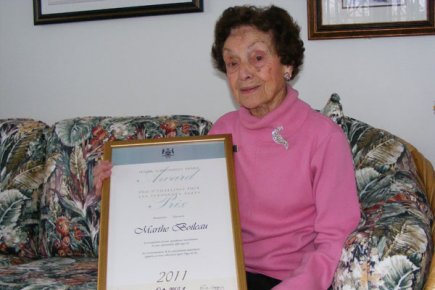 (Bourget, Monday, January 9, 2012) Long-time Bourget resident is being honoured at tonight's Council meeting.
(Click on pic to enlarge - Courtesy Samuel Blais-Gauthier)
After a long and illustrious career as a teacher, Marthe Boileau did not really retire in the 1980s. Turning 95 on December 23, she continues at a pace that would see younger people cringe, volunteering at le magasin communautaire Le Partage de Bourget and the local nursing home .
As a recent story in Le Droit says, "Marthe Boileau n'a pas le temps d'arrêter"... she doesn't have time to stop.
Thanks to the City and the Bourget Knights of Columbus, Marthe's name was put forward to the Ontario Senior's Secretariat and on December 14, 2011, she was hounoured for her achievements by Ontario's Leutenant Governor, David Onley, in a ceremony at Queen's Park and presented with a 2011 Ontario Senior Achievement Award.
The citation in part reads: "Marthe Boileau actively volunteers to assist disadvantaged people in her community of Bourget, whether it's preparing meals for the Prescott-Russell Association of Community Services or helping organize activities for the residents of Bourget Nursing Home."
Among her other accomplishments, Marthe has also been a long-time advocat for advancing the French language in Ontario and was also involved in writing the book to celebrate Bourget's Centennial.
Also, if you do a Google search using - ("Marthe Boileau" Bourget) you will find several references, including:
(Can you add to this story? Contact:

)
Back to top